Lunchkonzert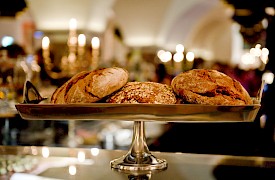 12:30 pm | May 13th, 2022
Neues Rathaus, Kantine
Location details
Visitors to the canteen in the New Town Hall can climb up to the sixteenth floor. At 12.30 p.m. today, everyone who wants to add a sound-painting touch to the picturesque view over Göttingen and the surrounding area should come there. Literally, because I Zefirelli from Hamburg will open the Lunch Concert series – and can also be experienced, in full-length, just a few hours later: Mr Handel in the Pub is the title of the programme at Burg Hardeg. A rousing mixture of baroque and folk!
The event is free of charge!
Ensemble I Zefirelli
Jereon Finke
Baritone, percussion
Luise Catenhusen
Recorder
María Carrasco Gil
Violin
Jakob Kuchenbuch
Violoncello
Tobias Tietze
Lute
Tillmann Albrecht
Harpsichord
Hygiene rules
Please understand that New Horizons, the Göttingen Int. Handel Festival 2022, will be held in accordance with the 3G rule – vaccinated, recovered or tested on the day! Masks (minimum protection level FFP2 or equivalent) must be worn until you take your seat. We also strongly recommend to keep the masks on during the entire event.