Sunrise
Breakfast included!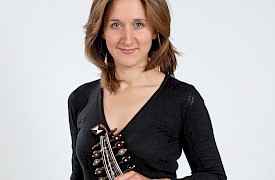 5:00 am | May 21st, 2022 | ~ 60 min
Wellenreiter, Seeburg
Location details
"A mistress stood by the sea / sighing long and anxiously. / She was so deeply stirred / By the setting sun", Heinrich Heine begins his famous poem "A mistress stood by the sea" and follows with: "My Fräulein! Be gay, / This is an old play; / ahead of you it sets / And from behind it returns." – This year, the Handel Festival is also devoted to this return of the sun, or more precisely: to the sunrise on the horizon, at 5 o'clock in the morning at Seeburger Lake. Anna Torge and Michael Freimuth welcome you into the day - with quietly contemplative music by George Frideric Handel, Domenico Scarlatti and their contemporaries. A unique experience!
Breakfast included. A bus transfer to the venue can be booked separately when purchasing tickets!
Programme
Domenico Scarlatti: Sonate G-Dur (K 91)
Georg Friedrich Händel: Sonate g-Moll (HWV 364) für Violine und Basso continuo
Abbate Ranieri Capponi: Sonata da camera Nr. 8
Georg Friedrich Händel: Sonate G-Dur (HWV 358) für Violine und Basso continuo
Domenico Scarlatti: Sonate g-Moll (K 88)
Domenico Scarlatti: Sonate d-Moll (K 89)
Anna Torge
Mandolin
Michael Freimuth
Lute