St. Blasius-Kirche, Hann. Münden
St. Blasius-Kirche, Hann. MündenZiegelstraße 16, 34346 Hann. Münden
Accessibility information:
Entrance:
Fully accessible
Disabled parking:
3m (Markt; Ziegelstr.)
Please note:
Access to the venue is barrier-free.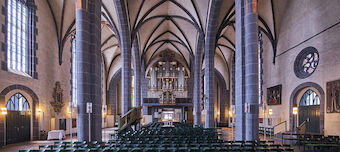 St. Blasius is a three-aisle Gothic-style hall church. Completed in 1584 in its present form, St. Blasius was built on the site of a former Roman basilica, remains of which are still visible today within the church. In the 16th century, several frescoes adorned the interior, just one of which has survived. In the course of renovation work a new spatial structure was created: the central aisle was removed and the fixed church pews were replaced by movable seating.
Public transport
Bus routes in Hann. Münden: 103, 104 Bus stop 'Markt'
Parking availability
Car parks Tanzwerder and Schlossplatz, 5-10 minutes' walk